I have always made breakfast an important meal everyday. I generally cook a full meal, and try to incorporate a variety of food groups. Most mornings we eat eggs in some form with varying sides. Since we have cut out gluten, I have made less and less carb heavy breakfasts.
The other day I decided to use some of the Bob's Red Mill All Purpose Gluten Free Flour to make some pancakes. I used my Vitamix blender to prepare the batter, although a whisk and bowl would be plenty sufficient. We serve these with real maple syrup (Trader Joe's Grade B) and all natural sausage.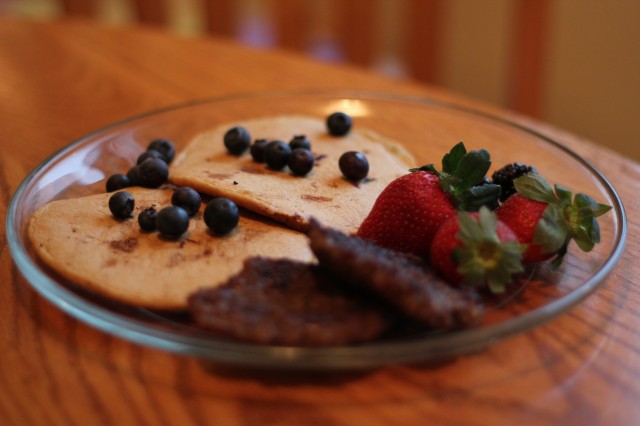 Gluten Free Blueberry Pancakes
2 1/2 cups almond milk
2 eggs
1/2 tsp salt
2 Tbsp molasses
3 cups All purpose gluten free flour (Bob's Red Mill)
1 1/2 Tbsp. baking powder
6 Tbsp. flaxseed (ground)
Frozen organic bluberries (Trader Joe's)
Combine first 4 ingredients in a blender or bowl and mix until thoroughly combined. Combine the flour and baking powder and add to egg mixture until just combined. Add the flaxseed. Pour onto hot griddle and sprinkle several frozen bluberries on top of each pancake immediately after pouring the batter. Flip each pancake after bubbles form – they should be light golden brown. Serve immediately with warm real maple syrup, a side of sausage and some fresh fruit.
You'll love these and your kids will too!