You know those nights where you haven't planned ahead and you still want to prepare a home-cooked meal that all your family members will enjoy? This meal is one of my go-to recipes for our family. I almost always have the ingredients (or some variation of!) on hand and can throw this together at the last minute. This meal is very flexible and very forgiving as you can substitute ingredients for whatever you have on hand. Alternately, with a little planning you can purchase all your favorite ingredients and toppings to serve at your next get together with friends and family. It is an awesome crowd pleaser and would be perfect for Superbowl Sunday!
Taco Bean Dip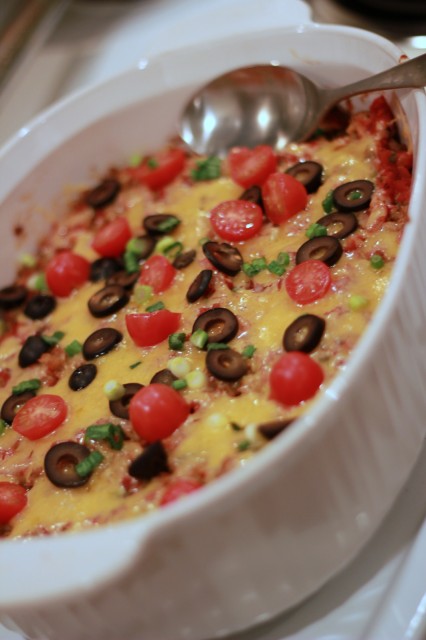 1 lb. ground meat, cooked (I have used both ground beef or turkey)
1 pkg. taco seasoning (I use McCormick brand as it has natural ingredients and doesn't contain MSG)
2 cans refried beans of choice (I have used traditional pinto or black – we especially like Trader Joe's Salsa Style refried pinto beans or Trader Joe's refried black beans with jalepeno)
1.5-2 cups of salsa (use your favorite brand – I usually use homemade because I like to keep it on hand, if not I will use Kirkland Signature Organic Salsa)
2 cups shredded cheese (again, use what you have! I have used cheddar, monteray jack, and even mozzerella)
Sliced olives, diced tomato, green onions, fresh cilantro (all optional as garnish over the top)
Sour cream, guacamole, or just plain avocado with some lime and salt are all delicious served alongside, but not necessary.
Preheat oven to 350. Spread refried beans in the bottom of a casserole dish. A 13×9 pan works great. Place beans in oven so they can start being heated while the meat is cooking. Brown the meat in a skillet over medium heat until completely cooked through (no longer pink). Add taco seasoning according to directions. Take beans out of the oven and spread the taco meat over the top in a layer. Spread salsa over meat. Sprinkle cheese over the salsa layer. Add any additional garnishes you would like (except sour cream or guacamole/avocado) and bake for 20-30 minutes or until heated through and cheese is melted.
We typically eat ours with tortilla chips, but you can just as easily enjoy this with a fork or alongside a salad or even placed in a tortilla as a burrito.
I hope your family enjoys it as much as mine – enjoy your Superbowl weekend!