I never knew that fresh spring rolls could be so easy to make! The main thing to account for is the time it takes to prep all the ingredients and then assembling them. My dear friend taught me how to make these and shared this recipe with me {hi Angie!}
Fresh Spring Rolls & Dipping Sauce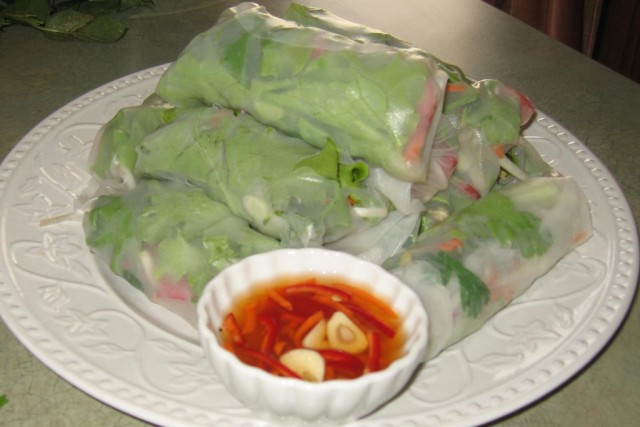 Ingredients
Fresh Spring Rolls

Rice paper (I got mine at Fred Meyer in the Asian aisle. Mine comes in a round clear package and the brand is Banh Trang Spring Roll Skin and is made in Vietnam)
Chinese style BBQ pork or cooked shrimp
lettuce
bean sprouts
shredded carrots
cilantro leaves
green onions (thinly sliced)
cucumber (julienned)

Classic Vietnamese Dipping Sauce

1/3 c. lime juice
3 T sugar mixed in 2/3 c. warm water
stir above ingredients to dissolve, and then add
4 T fish sauce
2 T soy sauce
2 T sweet chili sauce
1 red chili seeded and thinly sliced
1 clove garlic, thinly siced
2 T shredded carrot
Instructions
Fresh Spring Rolls

Let the rice paper soak in a bowl of cold water until soft and pillowy then remove and assemble rolls (lettuce, meat, bean sprouts, carrots, cucumber, cilantro and then green onions). Best if rolled and served immediately. If you want to chill for later, dampen a paper towel and place over top.

Classic Vietnamese Dipping Sauce

Stir in the sugar until it is dissolved.
Mix all together and let stand at least 30 min, or until ready to use.
https://wholesomemama.com/recipe/fresh-spring-rolls-dipping-sauce/
wholesomemama.com
I hope you enjoy these as much as we do!